Epson L3110 is a highly reliable printer from Epson, but after heavy usage it starts showing some errors, which gives its users the impression that their printer requires some type of hardware repair. The error shown is 'Service required' and the two red LED lights and one green power button light blink together, also they are unable to print any new pages. If you are encountering this problem, then don't worry because here we are going to discuss the solution of this red light problem.
This problem is called the "Waste Ink Pad Counter Overflow' issue. To resolve this issue, Epson has released a software called the Epson L3110 resetter tool. On this page, we are providing Epson L3110 resetter program free download link and also complete instructions on how to properly use the Epson L3110 adjustment program for resetting your Epson L3110. The following issues can be resolved:

A printer's ink pad is at the end of its service life (Waste ink pad counter overflow).

Service Required Error
Red light blinking
Ink pad counter resetter
Epson L3110 Resetter Tool Download for Free
Here you will get a download link for the Epson L3110 adjustment program which is free for a lifetime. Also, the Epson resetter tool you will get here is the official Epson version of this software. We are giving it for free without any hidden charges or fees. So, use it wisely.
Click on the download link to download L3110 resetter.
Download Link
Password: fpdd
If you are asking for a password, use the following password: fpdd
If the download link is broken, then please report it to us.
If you like this page then I would request you to subscribe to our YouTube channel. That's all I am expecting from you guys, I hope you'll do it.
Some users search Epson L3110 resetter without password. For those users, I would recommend this tool because its password is in working condition all the time. It will work as like without password L3110 resetter. If your computer says your password is incorrect, then you will need to update/reinstall your zip software. Reply back to us in the comments section below for any query regarding password.
Why Waste Ink Pad Counter Overflow Occurs?
Each Epson inkjet printer is designed to print a set number of pages, after which the waste ink pads of that printer require a reset. Now what are the waste ink pads? Epson inkjet printer cartridges contain small sponge pads that absorb excess ink after each printing session. This process helps in keeping the ink cartridges clog-free. Therefore, after a set number of pages these waste ink pads overflow with absorbed ink and require clean-up. This is a "Waste Ink Pad Counter Overflow" error. Now that you have understood the problem, let's discuss its solution.
How to use Epson L3110 Adjustment Program?
After identifying the issue in your printer, extract the files from the Epson L3110 resetter program in the folder and follow the steps mentioned below.
Index:
Steps:
Download the Epson L3110 resetter tool from the above given download link.
Disable antivirus temporarily. Click here to learn how to disable antivirus temporarily. If you do perfom this step properly then it might be your antivirus will delete the resetter utility. So do it carefully.

Extract the downloaded zip file using any zip folder. Use password: fpdd (if prompted). Make sure your zip software should be up-to-date otherwise it may give you the wrong password message which could be false one.
Go to the extracted folder

Open the folder "Epson L3110 Adjustment Program"

 Double-click on the adjprog.exe file.

It will show the following message "copied hardware ID"

Now go back to the previous folder and then go to the Keygen folder.

Double-click on WLGen_Epson_L3110 exe file.

Click on License Manager.

Click on the Add License button on the left-top corner.

Enter your name in the customer field.

Right-click on the Hardware ID field and click the paste option. The hardware ID is already copied when you have double-clicked on the adjprog.exe file earlier.

Click on Save button.

Select the license name that you have just created and click on "Create License Key"

The license key has been generated successfully. To apply this license key, follow further instructions.

Your license key has been saved in a folder (folder name is the same as the user name) that was just created once you generated the license. Open the folder "David".

You'll get a registry file named "license" just double-click on it to merge into your registry.

Click on Yes to confirm to update the license info into the registry.

The registry key has been successfully updated. Click on OK to finish.

Go back to the main folder and again open the folder "Epson L3110 Adjustment Program"

 Double-click on adjprog.exe.

Your Adjprog.exe has now been registered and enjoy using it.

In this window, you can see 'L3110' in front of 'Model'. Leave everything else as it is.

Click on "Particular adjustment mode".
In the list, find 'Maintenance' section and select 'Waste ink pad counter'. Then, click 'OK'.
On this screen, click on 'Main pad counter' checkbox and 'Platen pad counter' checkbox. Then, click on 'Check'.
Wait for some time and a score will appear. We have to make these scores zero. For that, select again 'Main pad counter' and 'Platen pad counter' checkboxes, and this time click on 'Initialize'.
An information dialog will ask you to confirm the initialization process. Click 'OK'.
Please wait for some time. A message will appear asking you to turn off your printer. So, turn off your Epson L3110 printer and click 'OK'.
Now, the information dialog box will ask you to recheck the pad counter scores. However, before that restart your printer and click 'OK'.
Now, execute the 'step 4' instructions again to check the scores of pad counters. The score should come zero. If that is the case, then click 'Finish', otherwise, re-execute steps 5, 6, 7 and 8.
That's it. Your printer issue should be fixed.
Video Tutorial: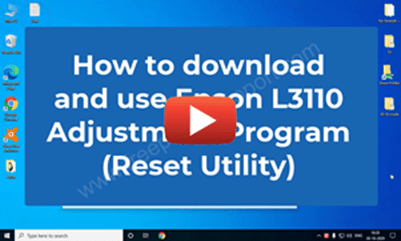 This completes the waste ink pad resetting process in the Epson L3110 printer. If all the above mentioned steps have been executed properly, then your Epson L3110 printer should start printing normally.
The Epson L3110 resetter software is a must-have tool for all users who own an Epson L3110 printer. That's because this program can be used for resolving many problems related to this printer, and not just the waste ink pad counter overflow problem. Since we are providing this Epson L3110 adjustment program for absolutely free, there is no reason why you should not install it on your computer if you have the Epson L3110 printer.
Was this article helpful?