An antivirus program is an integral part of computer's security these days. As the number of antivirus providers has increased so have the services they are offering. This is a great thing for consumers as they are getting more value for their money. However, a simple looking task of choosing the right antivirus has become really tough as most antiviruses have many common features. Both Total AV and Avast antivirus are quite popular among computer users, but if you have no prior bias, then choosing between these programs can be really tough. Therefore, in this comparison between Total AV vs Avast antivirus we will review every aspect of these antivirus programs so that you can make a wise choice.

Security & Features
Both these antivirus programs have ensured to provide a robust security system for your computer. The solutions offered by them are comprehensive and detailed, but there are few differences if you study closely.
Total AV
Basic Protection: Includes real-time protection from viruses and malwares, manual and automatic scanning, Deep and quick scans, protection from Spyware, USB scan, registry scan, protection from Trojans, etc.
Online Security: This antivirus has a feature that informs you about the safety of an internet connection so that you can decide which network offers more secure internet connection. Obviously, you are notified every time you visit a suspicious website.
Other Security Features: Along with the above mentioned security features, you get access to VPN Service, a Safe Browser function, a Personalized Firewall, Smartphone optimization feature and Device Tune-up function.
Avast
Basic Protection: Auto and manual scanning are available along with the real-time protection from virus, malware, Trojan and spyware infections. You get Smart scan, Registry scan, USB scan and quick scan options.
Online Security: For enhanced online security you get email protection, chat and messenger protection. Also, you get notification on the security status of your internet connection and on the safety of the website you are visiting or of the application you are trying to download.
Other Security Features: Avast offers you access to a VPN Network for anonymous browsing, Personal Firewall, Smartphone Optimization for mobile security, Safe browser and Gamer Mode for online gamers.
Comparison
Both Avast and Total AV offer mostly similar features, but there is one difference worth noticing. The Total AV offers Device Tune-up feature which can help you in enhancing the performance of your computing device. And the Avast antivirus offers Gamer Mode feature which gives you complete protection while gaming without compromising on your gaming experience. However, both these antivirus programs don't offer parental protection, which is quite useful in present times.
User Interface & Performance
User interface is extremely important for an antivirus as it helps in simpler access to the program features and also makes the program easy to adapt for new users.
Total AV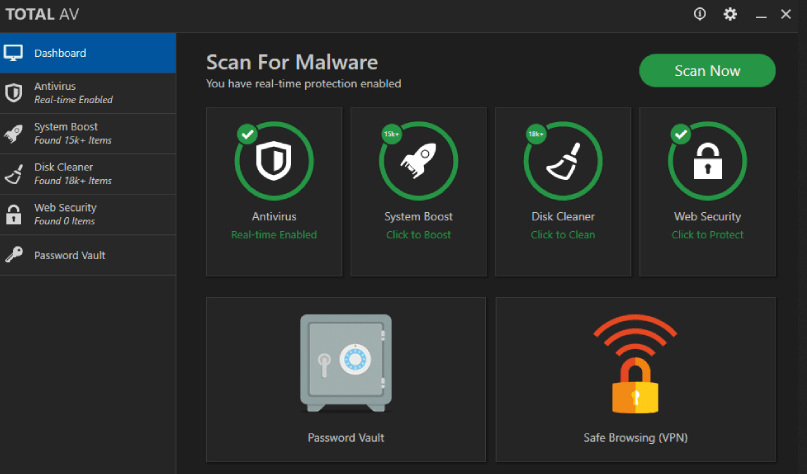 Device Tune-up feature of Total AV helps in the smooth and lag-free operation of your computer. This feature increases free disk space, thus reducing startup time.
The optimization package of this antivirus ensures complete protection and scanning of your device with minimum energy consumption so that you get faster computer and increased battery life for your device.
This antivirus identifies the programs or apps which are slowing down your computer. This can be really helpful when you are trying to clean-up your computer.
User interface of Total AV is highly intuitive and all the features are well categorized and easy to access.
Avast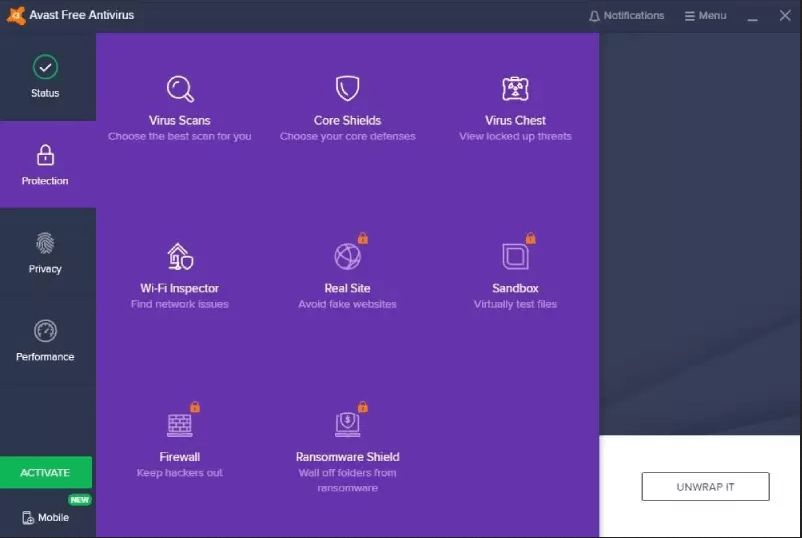 Avast uses machine-learning algorithm for protecting and scanning your device. This allows it do deliver highly efficient security without slowing down your computer.
Avast Cleanup tool makes the system boot-up time and operations much faster.
You can deal with system performance analysis, potential threat protection and many other issues by using the Fix-It-Up function.
User interface of Avast is simple to navigate and all its features can be accessed in just a few clicks.
Comparison
Avast is definitely better in performance due to its proprietary algorithm, but Total AV is also not far behind. Actually, most users won't find any difference, but in old or slow computers Avast will offer faster performance. User interface of both the antivirus programs are equally good and easy to operate. It doesn't matter which antivirus you choose, we are sure you will learn to operate all its features in no time.
Pricing
Total AV

Avast

Comparison
Price is a major factor while choosing an antivirus, especially when most of the features are similar. As you can see above, Avast is slightly costlier than Total AV. Although price difference is not substantial, but we must remember that Total AV is a comparatively new player in this business while Avast has more than 435 million users worldwide.
Support
Total AV

24 x 7 fast support
30 day money back guarantee
Live chat support

Avast

24 x 7 prompt support
30 day money back guarantee
No Live chat support
Comparison
The only major difference between these two anti-viruses is that Total AV offers live chat support, which Avast doesn't. To be fair, Avast does offer easily accessible 24 x 7 support staff which is very prompt in replying, but you will get this with Total AV as well. No matter which antivirus you opt for one thing is sure that you will not be left stranded with unresolved issues.
Pros & Cons
Total AV Pros

Robust protection
Device Tune-up for faster performance
Low price means better value for money
Live chat support

Total AV Cons

Relatively new in the business
Antivirus scanning can be slow at times

Avast Pros

Comprehensive and reliable protection
Machine-learning algorithm ensures fast scanning and removal of infections
Highly experienced in this business
Gamer Mode for better gaming experience

Avast Cons

Costlier than competition
No live chat support
My Verdict
We are sure that this comparison between Total AV vs Avast antivirus will help you in choosing the right security application for your device. Most of the antivirus programs come with identical security features and are usually highly efficient in ensuring that your device stays protected. Therefore, while choosing the right antivirus program for your device you must first figure out what are your needs? Doing this will help you in choosing the right product and will save you from spending money on useless features.
Was this article helpful?