Dial a Fix Download – Windows Repair Tool for Windows XP
Supported browsers: Windows XP
Unsupported browsers: Windows7, Windows8. Windows vista, Windows 2003, 2008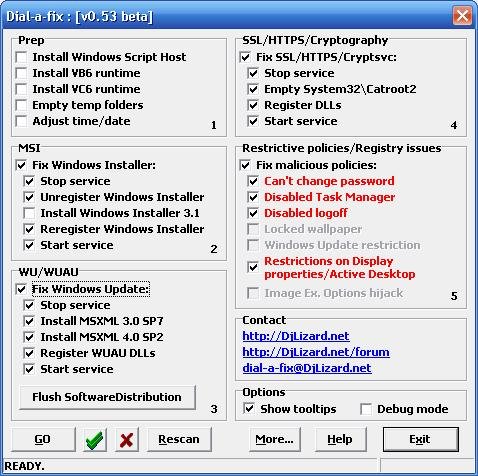 Dial a Fix
Dial a fix tool is used to resolved Windows Update problems. This is also used to many other problems like windows installer, security handling and many other problems. you can be easily downloaded this tool from here: dial a Fix tool . Dial a Fix tool is a collection of "known Fixes" gleaned from microsoft knowledge base article and other crucial support forums, that will helps you in fix problems with your computer system.
This tool is Generally designed for technicians, power user and administrators. This tool is easy to use, you can use this tool without using any guidance. You can easily choose the solution these are you want through check marks button, and click GO. Many other buttons are available on the main dialog. With this tool you will be able to resolved many windows problems, so  Dial A Fix tool is very helpful for us.
This tool can be worked with windows 98, windows 2000 and windows XP 32 – bit. but it is not perform any task with 64 – bit version or windows 7 and windows vista also. if you are uses 32 – bit operating system leave windows 7 and windows vista then you can be able to resolved your windows computer problems or issues with this good and fast tool. DAF (Dial A Fix) tool is a software to uses for resolved windows and many more computer problems. Dial-A-Fix tool is a handy user interface to perform tasks which are usually used when repairing computers after Spyware, Malware etc.
Dial a fix (DAF) tool is allows you to Re-register Windows DLLs, Repair active X Controls, Direct X, Control panel applets and Windows media player. You can fix your windows update problem with this DAF (Dial A Fix) tool.
FAQ
Q. Is there a dial a fix for windows 7, Windows8, Windows vista, Windows server 2008. ?
A. Sorry, dial a fix available for only Windows XP. that is not supported with other windows version.
Q. Can it fixed "windows installer" issues ?
A. Yes, you can definitely fix the windows installer with the help of this dial fix tool.
Q. Can it be repaired windows policies which disabled by virus?
A. Yes, using with this tool you can delete all the unwanted polices.
Q. Can it be repair Internet explorer ?
A. Yes, but you need the XP installation disk then you can able to reinstall it IE8 from the disk.
Q. Can it be able to repair outlook express?
A. Yes, it will do that very esily, it can be re-register all the files which are used outlook. then it will be fixed.
Download free dialafix tool for windows xp, 2000. it can't be used for win7,8,vita etc. dial a fix download in free of cost the dial a fix windows 7 is not available for download but in windows xp it can be repair windows update fix issues, dial a fix for vista also not available dial a fix win 7 not for download only xp have for download, It is a freeware dial a fix vista download, Dial a Fix Download – Windows Repair Tool for Windows XP.
Was this article helpful?