Are you installing Google Chrome MSI package? You may be experiencing a flawless installation process. Others may find that it won't install, and they get Error 1722. This indicates an issue with the installer pack. The entire error message may read as: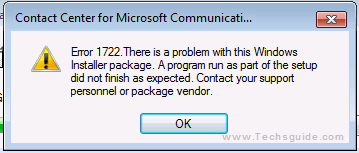 Even if you uninstall and reinstall the package, it won't work. This error means that during installation, a general error occurred.
Cause
Many times, errors such as "install error 1722" occur with the general use of the PC. Manual changes, applying updates and uninstalling applications to some components of Windows can cause these errors to surface.
Solution
Download the Microsoft Fixit tool.
After download, the first thing you need to do is execute the downloaded file.
Next, a program will download. Click the word "Run."
Click the button that says "Accept."
The machine for Windows uninstall and install will then be scanned by Microsoft Fixit.
When this happens, select "Detect problems and let me select the fixes to apply."
Select "Uninstalling." Click all the issues that apply and click "Next." You will then get the status of your result that says you succeeded. You can now close the window and enjoy your newly-installed program.
Note:
This error can sometimes occur when you add or remove software The reasons might be that the service simply isn't running, there is an invalid entry registry or that the installer is corrupted. One thing is for sure and that is the fact that there is a malfunction in your system's operation. Common reasons could also be consequences of malware and even power failures. Just like with all app errors, error 1722 gives you the option to report the error to software publishers which are a great way for the publisher to eliminate similar errors in future versions. For immediate fixes, follow the steps above for best results.
Was this article helpful?