Can you imagine a weekend where Netflix isn't available? No, that's correct! Except for the cave dwellers, none of us can because it has become a part of our lives. Imagine that you are having your favorite snacks on hand and slipping into bed with your laptop makes you feel all warm and fuzzy, but then something terrible happens: your laptop's black screen comes up with the message "Netflix has encountered an error NW-2-5" is the code. And then, wham! Netflix error code nw-2-5 has completely ruined your weekend.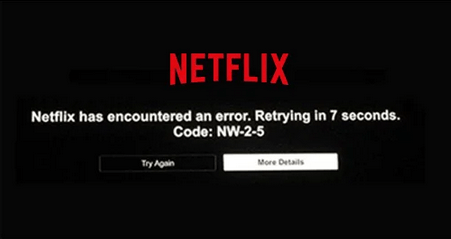 So here's the answer: Either physically connect an internet cable or watch YouTube to pass the time, or fix this error code and continue watching your beloved F.R.I.E.N.D.s series. Besides, it's not that complicated; in fact, it's quite simple. Simply follow our instructions to get an error-free Netflix account. So, without further discussion, let's get started fixing up the "NW-2-5" error.
Netflix Error Code NW-2-5
Before we continue, let me explain what the NW-2-5 error is and how to fix it. The Netflix error code nw-2-5 is related to Internet connection. It indicates a lack of Internet signals between your Wi-Fi device and account. Another possibility is that the device is unable to connect to the router.
Steps to Fix the Error Code NW-2-5
The Netflix error code nw-2-5 can be fixed in just five simple steps. Check them out.
Check Network Streaming:
In many cases, network providers block signals to Netflix devices. The same can happen with public wifi, which either blocks Netflix or delivers disastrous video quality with distorted connectivity. You can ask your network provider to unblock Netflix and enjoy streaming.
Check Internet Connectivity:
Your internet connection may also be responsible for Netflix error code nw-2-5. You can find it by checking your internet connection speed, which is not rocket science at all. You can either go to SpeedTest.net or hit Fast-by Netflix to check your internet strength. The required speed for HD and Ultra HD quality is 5.0 to 25 Megabits per second.
Restart your Netflix Device:
For Smart TV:
The first thing to do if you get the error nw-2-5 is restarting your Netflix device. But don't just plug out and plug in the device, instead follow these steps to restart accurately and save time.
If you're using a SmartTV, shut it down and plug out the device.
Disconnect the device – the cables.
Plugin the device and hopefully it will start working.
For Laptop:
If you're using the app on the laptop, we prefer that you log out of your account and wait for several minutes. Go to netflix.com and open a new tab to log in again. Re-login to your account and enjoy.
Restart Network Device:
Restarting your network device may also be a solution to fix the error nw-2-5. Turn off your device, unplug it, and disconnect it from the router and modem. Wait for a good 10 minutes before plugging it back in. Once the router lights are turned on, switch your TV on and get streaming.
Check the DNS Settings:
If you're using Netflix on your X-Box, PlayStation or streaming media player, then we suggest you check your DNS settings. Sometimes the error code nw-2-5 is caused by DNS, especially with gaming devices. You can configure your DNS settings by following the steps mentioned below:
Press the 'Guide' button on your X-Box controller and go to the 'Settings' bar.
Click "System Settings" then "Network Settings".
Click on your network and go to "Configure Network".
Go to 'DNS Settings' and then to 'Automatic'.
Then restart the X-Box and enjoy.
---
Who would've thought fixing the deadly sounding error nw-2-5 was so easy. It doesn't even take an hour, and the satisfaction of getting things right by yourself is just epic. So quit calling the helpline every time you get this error and follow our basic guide to help yourself.
Was this article helpful?