Internet Explorer reset option is a very powerful option to reset all the settings of internet explorer. Reset option will not effect on your bookmarks/favorites. Here are two methods to reset Internet explorer one is goes to Microsoft Internet explorer reset tool and second is goes to manual reset, you have to follow manual steps to reset internet explorer. it will guide you how to reset internet explorer as default.
Follow below instruction to  reset options.
Method 1 – Automatic Fixit
Method 2 – Manual Instruction
Step 1 : Open Internet Explorer
Step 2 : Click on Tools on top menu bar (Press F10 key to activate menu bar)
Step 3 : Click on Internet Options
Step 4 : A Internet options window will come up,  click on Advanced Tab.
Step 5 : Click on Reset Button.
Step 6 : A another confirmation window will come up, Here Check mark a box "Delete Personal Settings", then click Reset button on it.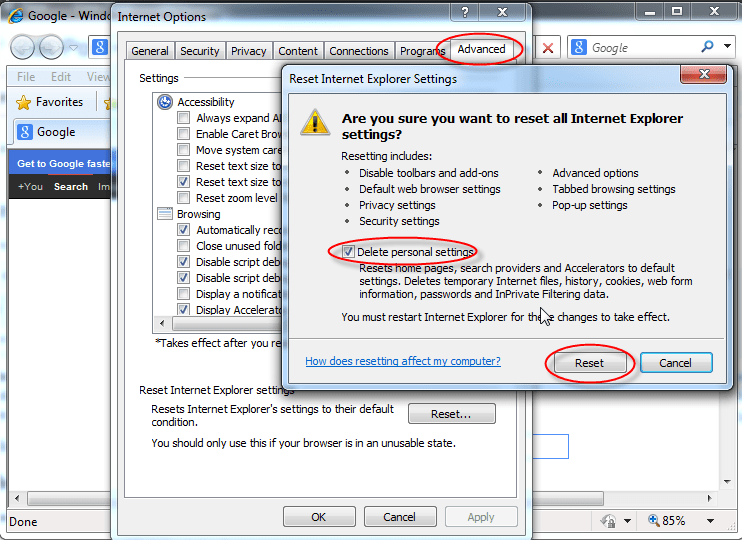 Searchable String.
Reset Internet Explorer
Internet Explorer Reset Tool
Internet Explorer make as like before
How to reset IE
How do I reset Internet Explorer.
How do you reset Internet Explorer
Want to reset Internet Explorer
Can't Reset Internet Explorer
Restore Internet explorer
Was this article helpful?