Clipgrab is a famous multi-platform video downloading software that supports various video streaming sites. This free application is well-known for its user friendly interface. But many reputed malware protection programs consider Clipgrab a malware infection. Due to this, many users are concerned about the security status of this video downloading app and refrain from installing it on their computer fearing some malicious activity. In this article, we will do an in-depth study of various aspects of Clipgrab program so that you can make an informed decision on the security status of this software package.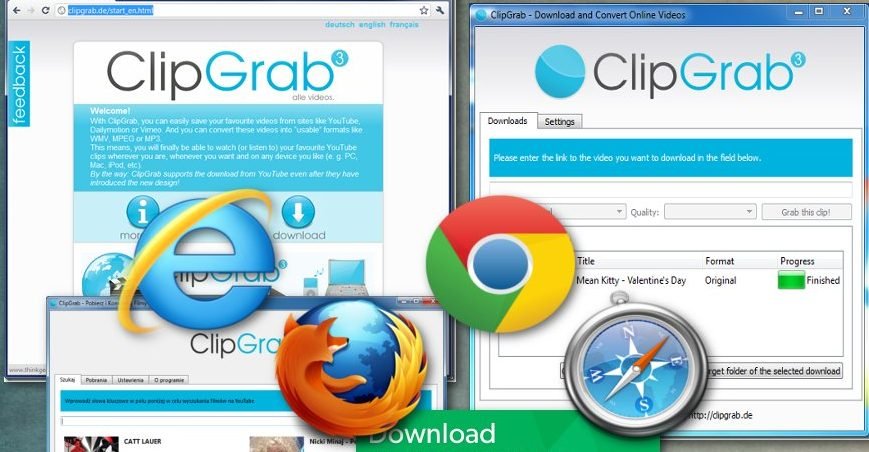 Is Clipgrab a Malware?
Clipgrab is an open source program and anyone can examine its source code to detect any type of malicious or spy code in it. Therefore, the core application of this program is NOT malware. However, since this is a highly popular open source program some hackers bundle their own malicious apps with this free program. Most users who are unaware of this end up installing a Clipgrab application which is corrupted or infected with other types of malware.
Over a period of time, so much malware has used Clipgrab as a vehicle to infect computers that most malware security software has blacklisted Clipgrab as a potential malware. Now, even reputed malware security programs, like MalwareBytes, immediately flag Clipgrab as a security threat.
Does this mean you shouldn't use Clipgrab application? Absolutely not, you can safely use this free video downloader on your computer, but you must take some precautions. If you are sure that your Clipgrab executable file is a legitimate version of this software, then you can use it on your computer without any worries.
How to Identify Genuine Clipgrab Software?
If the Clipgrab program you have installed on your computer is genuine, then some of its details will match with the information given below.
Location of the executable file should be in subfolder C:\Program Files\Clipgrab.
Publisher of the .exe file must be 'Clipgrab'.
The folder of executable file should also have 'tbClip.dll' file.
Web address of the publisher should be 'Clipgrab.Media-Toolbar.com'.
The file size of this program on most Windows OS is up to 2.82 MB.
You can easily determine the trustworthiness of the Clipgrab installed on your computer by comparing its details with the information given above. If you suspect that your application is not genuine or that your computer has been infected, then you should take immediate action to fix it.
How to Remove Clipgrab Malware?
If you have a genuine software installed on your computer, then it shouldn't be removed as it can affect the working of other associated applications. However, in case you want to get rid of legitimate Clipgrab program from your computer, then just follow the uninstall process of your operating system and you will get the desired result.
If you think your computer is infected with Clipgrab malware, then you should download and install a reputed malware security program. Such a program will detect all malwares installed on your computer and remove all their files. This will ensure that your computer gets cleaned from all such infections.
Conclusion
Open source programs are preferred by many computer users over closed source programs as it allows them to examine that program, so that they feel safe about using it. For Clipgrab, being an open source program has become its undoing, as people now a days are asking "Is Clipgrab a malware?" Despite being a user-friendly application many hackers over the internet are using Clipgrab's popularity to infect computers by corrupting its source code. However, you are safe, because now you have all the information necessary to identify the genuine Clipgrab software.
Was this article helpful?