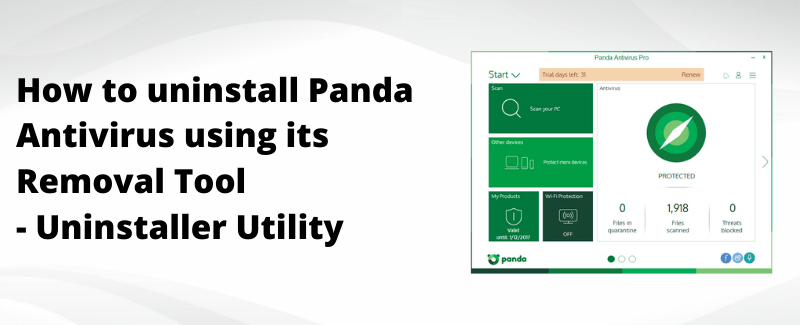 Panda Antivirus is a security solution that has become popular in recent years, but sometimes we need to uninstall antivirus in order to install another one or might be reinstalling the same one. To uninstall the Panda antivirus completely from your computer, uninstall it through the Panda's official uninstaller utility (Removal Tool). This is the easiest way to uninstall the Panda Antivirus from your computer. Click on the given download link below to download the removal tool.
Panda Antivirus Uninstall Tool (Removal Tool)
The Panda Antivirus Uninstall Tool is an application for the Windows operating system that scans and removes all traces of Panda Antivirus from your system.
If you want to remove the Panda Antivirus, you will need to uninstall it completely. Here are some steps that you can follow to remove the antivirus:
Manual steps to remove Panda Antivirus
1) Close all Panda Antivirus related windows and programs.
2) Press Win+R to open the Run window. In the text field, type in "appwiz.cpl" and hit Enter or click on the OK button on your keyboard. This should open the Control Panel window with a list of installed programs at the top of the window.
3) Locate "Panda Antivirus" in the list and select it by clicking on it once with the left mouse button or by pressing the left arrow key on your keyboard until it is selected. Then choose the Uninstall option from the toolbar or press Alt+F10 buttons.
Complications after uninstalling Panda antivirus
Panda antivirus software is probably the most important security software for any Windows computer. When antivirus is removed, it leaves your computer vulnerable to a lot of potential threats.
There are many reasons why you should keep your antivirus installed and running on your PC.
One such reason is the sensitive data which you might have on your computer. If you remove antivirus, it becomes easier for people to steal this data and use it for their own purposes.
Another reason is that if you remove the antivirus, there are chances that someone might infect your PC with more malware by sending you infected files or links in an email or chat conversation. And lastly, some websites might be blocked and inaccessible without the protection of an antivirus software because they contain malware or phishing scams. Eventually, installing a good antivirus on your computer after uninstalling the Panda antivirus is essential.
Was this article helpful?