Filerepmetagen is an unnecessary program discovered by an antivirus. PUP is an abbreviation for Potentially Unwanted Programs. Although these programs are not useful on our computers, they get installed on our devices without our consent. Some of these programs contain Trojan, Adware, and also malware. A vast majority of these potentially unwanted programs negatively impact the running of various computer applications such as Chrome and Firefox as they act as Adware. These programs get installed into our computers through various methods, one of which is bundling with the other software.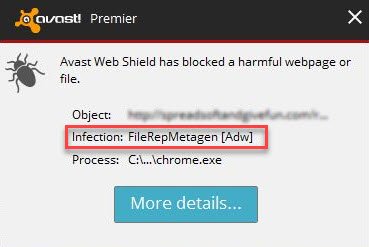 Filerepmetagen as an Adware attracts and pops up advertisements and unwanted redirections. Once installed, PUPs can get into the browser and modify browser settings without your permission.
With that in mind, let's look at the methods used to eliminate Filerepmetagen from your computer. There are two processes involved in getting rid of PUPs, such as Filerepmetagen. The first method involves manually deleting unnecessary files, while the other one involves using an advanced adware removal tool to do the job on your behalf. The great thing about these methods is that they are all effective. Here are techniques to remove Filerepmetagen from your computer:
1. Use Adware Removal Tool to remove Filerepmetagen

Adware Removal Tool is an automated software that removes a majority of the potentially harmful malware and any other adware programs installed on your computer. Apart from the most popular Adware and malware, Adware Removal Tool can fruitfully discard the Filerepmetagen malware as well.
2. Use Malwarebytes Anti-Malware Software
Malwarebytes is a reputable anti-malware and cybersecurity software that discards all the main spyware, malware, and ad-related viruses. One incredible thing regarding Malwarebytes is that it can run simultaneously with the already installed antivirus on your PC. Here are the steps to follow when using Malwarebytes to get rid of Filerepmetagen from your computer:
Visit Malwarebytes' official website https://www.malwarebytes.com/and download the software.
Click the Malwarebytes software's download installation file and you will come across a Malwarebytes Anti-Malware Setup Wizard that will provide you with a comprehensible guide on the installation of Malwarebytes anti-malware.

Click the next button on Malwarebytes Setup Wizard until the program is successfully installed on your computer. The program will be successfully installed once you click the "Finish" button.
Malwarebytes' user interface is easy to use and understand, and you can easily navigate Malwarebytes' menu items, which constitute essential scanning options for eliminating malware and Adware from your PC.
Malwarebytes' "Scan Now" feature instigates a comprehensive scanning of your system to detect viruses and malware.
Though Malwarebytes scans your PC for malware and Adware, it is subject to numerous scanning types, as shown in the screenshot. Some of the scans performed by the Malwarebytes's software include file system scanning, memory scanning, Heuristics analysis, and startup files scanning.
Once the scanning is complete, Malwarebytes displays a screen featuring all malware/infectious files found on your computer. To eliminate the listed malware program files, highlight "Remove Selected" or "Quarantine Selected" depending on the Malwarebytes option displayed on your screen.
Besides contagious files, all the malicious registry keys will be ejected by the Malwarebytes. The majority of these infectious and malicious files demand PC restart for efficient eradication.
To re-check if all the malware and infectious files are removed, click the "Threat Scan."
NB: If Malwarebytes' unpaid version is not meeting your needs, switch to Malwarebytes premium version as it handles the various types of Adware, malware, and dangerous programs successfully.
3. Use Google Chrome Web Browser
On your Google Chrome Web Browser, click the menu icon symbolized by three dots on the right-top corner, scroll down until you find "more tools," then select "Extensions."

Next, discard all the infectious or potentially harmful plugins and extensions and not forgetting the Filerepmetagen malware under the extensions list in Google Chrome.
To get rid of these malicious threats which come in conjunction with third-party search engines, click Customize and control the Google Chrome menu denoted by three dots. Now go to Settings, Search engine, and then Manage search engines.

Now remove all the puzzling and search engines and toolbars, which are detrimental and redundant for your browser. Only pick reputable and trustworthy search engines like Google in your typical search engine section.
Once more open the Customize and control Google Chrome menu denoted by three dots and then scroll down until you find the "Setting" option and then go to the "Advanced" option. Click the advanced option, on the bottom, click the "Reset and clean up" button, select "Restore settings to their original default" to reset the browser. The resetting and cleansing of your browser discard Filerepmetagen on your windows operating system and browser.
Note: To remove Filerepmetagen from other browsers besides Google Chrome, follow the steps aforementioned in method 3.
Was this article helpful?