Longfintuna is a browser hijacker virus that interrupts users' online activities tremendously. This virus mainly invades browsers three browsers, namely Google Chrome, Internet Explorer, and Firefox. Every time users open any of these browsers, web.longfintuna.net displays as the homepages. More often, it redirects users' searching for information.
In such a case, it creates a new tab without your knowledge and redirects you to irritating websites. Once closed, it keeps reopening from time to time, making it challenging to search for something online. If this virus invades your computer, then you won't be able to use your browser successfully due to constant interruptions and showing ads more often and setting web.longfintuna.net as homepage.
This virus can get into your PC even if you have an antivirus installed. Though your computer may still have several antivirus programs, longfintuna can always find its way into your computer whenever you download free programs on the internet or update them. This virus is mainly spread through spam email attachments or by visiting insecure websites like pornographic sites.
Once it gets into your computer, it takes control of the browsers. In fact, Longfintuna introduces harmful files and registry entries to the infected computer and sets up the PC browser's malicious toolbar. Web.longfintuna.net can evaluate a user's search history and cookies to unearth users' search habits, confidential information, and often used keywords. This can help hackers gain access to users' personal information such as a bank account, email password, or credit card number without their consent. If you suspect your computer is infected with this virus, don't hesitate to get rid of it to avoid causing more damage.
Guide to Eliminate Longfintuna Virus (Browser Hijacker) from Your PC
Prior to initiating manual removal of the longfintuna virus, restart your PC and press F8 continuously before the Windows interface loads. Select the "Safe Mode with Networking" option, and after that tab, the Enter key on your keyboard. This will prompt the system to load files and display them on the desktop in the required option.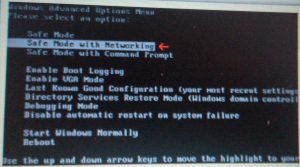 Press Ctrl+Shift+Esc simultaneously to launch the Task Manager, search web.longfintuna.net processes, and terminate them by right-clicking individual processes to end the task.
Right-click the Windows key on your PC, go to Control Panel, type "Folder Options" on the search bar. Once you find the Folder Options window, click the View tab, check Show hidden files and folders if unchecked and uncheck Hide protected operating system files if checked, and then press the Enter key.
Press the Windows key+ R key simultaneously to display the Run box, type in Regedit and press Enter to open Registry Editor, then evaluate if there are web.longfintuna.net registry entries and discard them.
Clear all the listed files created by web.longfintuna.net.
Discard your cookies, browsing history, and internet temp files
Note that if you're not a guru in fixing virus program files, registry entries, and dll files, there is a prospect that you may end up inflicting damage to your computer and making it inoperable at the end of the exercise. Always seek professional help if you are not conversant with the protocols of handling a virus.
Was this article helpful?