TV remote is capable of performing multiple tasks, but the most basic of those tasks is to switch-on and switch-off your television. Now a days, users are so accustomed to their TV remote that they don't know how to operate their TV if their TV remote suddenly stops working, its batteries run out or maybe it just goes missing. Simple tasks, like turning on the TV or changing the channels seems difficult. If you own a Samsung TV and are encountering this problem, then don't worry, because here, we will not only describe how to turn on Samsung TV without remote, but also discuss ways to access more advanced features on your television.

What Are the Options to Turn on Samsung TV Without Remote?
There are multiple options you may have to turn on the Samsung TV without a remote, but the right option for you depends upon the cause of the problem.
Control Panel Buttons: This is the most convenient and commonly used option by users who want to turn on their TV without remote. This option can be used immediately and it doesn't matter whether your remote has been damaged, has gone missing or its batteries are dead. The only drawback of this option is that you will have to walk to your TV and manually change the settings each time you want to operate your TV.
Use TV Remote App: If you have a Samsung Smart TV, then you may have the option to connect your TV with the Samsung TV remote app. In such cases, you can easily turn on Samsung TV without using your TV remote.
Universal Remote Control: If your remote control has been damaged and you are thinking of replacing your TV Remote, then its better to go for a universal remote as it will work with almost all TV models.
Sometimes, the receiver on your TV is malfunctioning. In such a scenario, the best option is to use the control panel buttons.
How To Turn on Samsung TV Without Remote?
Like said in the previous section, the simplest way to turn on your TV without remote is by using the control panel buttons. This method will work for all televisions, like LCD, LED and even CRT TVs. However, if you have Samsung Smart TV, then you can try to operate it by using the TV remote App. We will discuss both these options below.
A) Manual Control
Every Samsung TV comes with push-buttons on the control panel, which gives you the option to access multiple features of your TV. You can easily turn on and turn off your TV by using these buttons. Also, you can switch channels, adjust volume and in some TVs, you can access Menu and Settings as well.
These control buttons are easily visible in a CRT TV, but are difficult to locate on LCD, LED and Smart TVs, since, they are deliberately placed by the manufacturer where they are not easily visible. However, there are three places on your Samsung TV, where you can find these buttons and we will discuss all three places below.
1) Backside of the TV
This is the most common position for these control buttons. Look at the backside of your TV and you will find these push-buttons. On of these buttons, usually, the center button, will be the power button. Press and hold this power button to turn on Samsung TV without remote.

2) Under the Front Panel in the Middle
In some Samsung TVs the control buttons are placed under the front panel in the middle. Most probably, there will be five buttons. The center button will be the 'Power' button, which you should press and hold to switch on your Samsung TV without remote.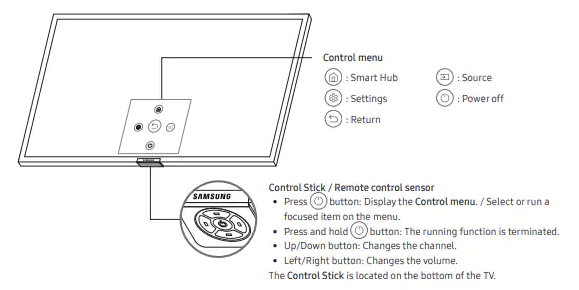 Some Samsung TV models, especially the ones released in 2018, will have a single button or the Power button in the middle of the front panel. You should press and hold this button to turn on the Samsung TV without remote.

3) Under the Front Panel on the Side
If your Samsung TV doesn't have the control buttons on the back side or on the middle, then they will be on your right-hand side when you are facing the TV screen. Press and hold the 'Power' button to switch on the Samsung TV without remote.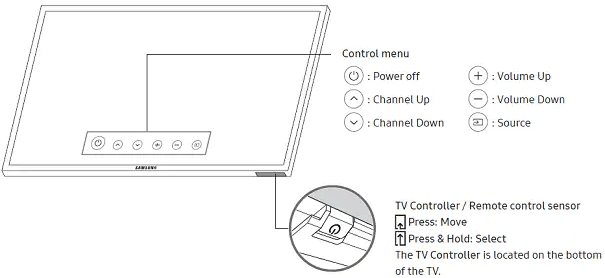 As you can see, we have clearly described the three places where you can find the control buttons of your Samsung TV. However, if you have a Samsung Smart TV and you want to setup your TV with your smartphone, then read the next section.
B) Setup TV Without Remote Via Smartphone
As we know that the Samsung Smart TVs work with the internet and are equipped with many features to enhance your user and viewing experience. One such feature is their ability to be controlled via a smartphone. You can find a 'TV Remote for Samsung TV' app, which you can freely download at the Apple App Store and the Google Play Store. After installing this app your smartphone will start working as your TV remote once its synchronized with your Samsung Smart TV.
Use your smartphone to visit the Google Play Store or Apple App Store, then search and install 'TV Remote for Samsung TV' app.

Open the app on your smartphone and tap on the 'Power' button to turn on your Samsung Smart TV without remote.

Apart from turning on your Smart TV you can access many other features of your Smart TV via your smartphone.
Possibilities and Problems When Using Control Buttons

Remote control offers you easy access to all the functions of your TV. However, it's not that simple when you are using the control panel buttons. Also, you may have to encounter some problems when you are trying to operate your TV by using its control push-buttons.
A) What You Can Configure Without TV Remote
You will find the configure buttons of your TV at the same place where you will find the power button. You can use these buttons to perform a wide-range of tasks.
Tuning Channels: You can use the buttons to search and tune the available channels and then save your preferred settings so that you can access them in the future.
Change Display Settings: You can use the control buttons to set the brightness, contrast and other such display settings. Also, you can use the buttons to set your preferred volume levels.
Select Input Signal: You can use the buttons to choose the signal source for your TV.
The features you can configure will depend upon the variety of features available on your television, but some basic settings you can perform on all Samsung TVs have been mentioned above.
B) Necessary Precautions When Using TV Control Buttons

While operating your TV using its control push-buttons you can encounter certain problems, which you must know to avoid any undesired incident.
Highly Time Consuming: It will take a lot of your time and effort to scroll through all the channels or features available on your TV and then to configure them.
Jammed Buttons: If your TV is old, then its control buttons may be jammed due to dust. This may create some problems as it will be hard for you to press these buttons.
Operating Set-Top Box: If you were using your TV and he set-top box with the same remote, then you won't be able to control your set-top box settings by using your TV control buttons.
Activated Child-Lock Function: Many Samsung TVs have child-lock function, which is provided to ensure that the kids in the house can't change the TV settings by using the control panel buttons. If this function is activated on your TV, then you will have to first deactivate this function before you get the power to change your TV settings.
There maybe some other problems as well which you might encounter when you try to operate your TV by using its control buttons. Since, you are accustomed to using a TV remote, it will take time before you can adjust to the new method.
What Are the Features of the TV Remote App?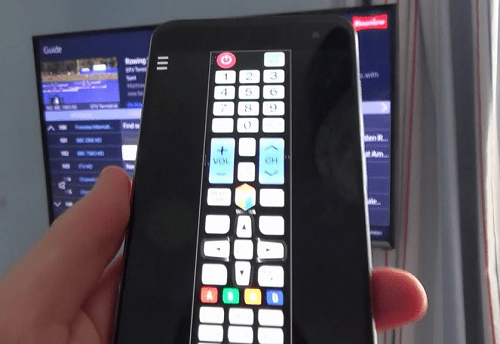 The TV Remote For Samsung App has been specifically designed for the Samsung Smart TVs. Therefore, it can perform almost all the functions that your Samsung Smart TV Remote can perform. Since, you can install this app in less than a minute, it's a much better option to operate your TV, than the control panel buttons.
When you launch this app on your smartphone, make sure to scroll down so that you can view all the buttons provided on the app. Each button performs the same function as its counterpart performs in the physical TV remote. Scroll through all these buttons and you will understand all the various functions which you can perform by using the Samsung TV Remote app.
You can install this app on your smartphone or tablet. However, you must remember that this app uses Wi-Fi connection to connect with your Samsung Smart TV. Therefore, your Smart TV and your smartphone must be connected to the same Wi-Fi network, in order for them to detect each other.
---
Now you know how to turn on Samsung TV without remote. All the major TV manufacturers, including Samsung, take special care to ensure that the users can easily access the features of their TV without a remote control. Therefore, whether you have a Smart TV or and an LCD/LED/CRT TV, it doesn't matter, you have been provided a convenient access to most of its functions through manual controls. All you have to do is search for the control buttons and use them properly. Also, you can study the TV User Guide to know more about how to solve this problem.
Was this article helpful?