There are many free download sites all over the internet, but few are as popular as Softsonic. However, the popularity of Softsonic comes with a lot of questions. Although, this site claims to offer 100% secure download for several applications, but there are many users who question the legitimacy of the software offered on this site. This raises plenty of doubts in the mind of a user and they end-up asking a very pertinent question 'Is Softsonic safe website?'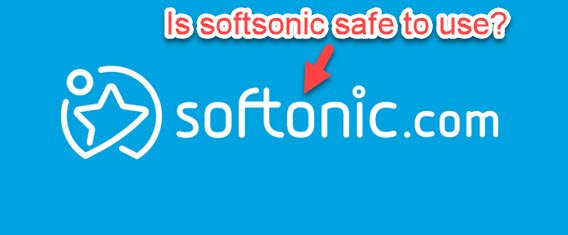 In this article, we will dig deep into this question and study it from multiple aspects so that you can get a fair answer, which will empower you to take the right decision regarding the authenticity and legitimacy of the Softsonic website.
History of Softsonic
In the year 1997, Softsonic was started in Barcelona, Catalonia, Spain. The objective of this website was to provide free access to apps, games and other software products to online users. As of now, Softsonic is among the top 3 most preferred freeware website among web users. As said before, this website provides free download, but due to this several dubious web creators are using this website to plant malicious content over the internet, which has raised concerns about the safety of Softsonic content.
Is Softsonic Safe Website?
As authorities worldwide are taking tough action against malicious websites we have never heard of any complaints against Softsonic from the authorities. This is a clear sign that Softsonic is a totally legit and legal website. However, this is also true that many online users say nasty things about Softsonic because they have noticed some software and apps which were infected by malware. So, to decide whether Softsonic is safe or not we will have to go for neutral and objective analysis.
Web of Trust (WOT)
WOT (Web of Trust) is a popular extension for web browsers which authenticates the reliability and security of a website by testing it through multiple security algorithms and tools. By reviewing the safety of Softsonic website on WOT we find that this website has trustworthiness rating of 85% and child safety rating of 86%. This is a high rating by WOT standards, which shows that with regard to reputation and privacy, Softsonic website is safe and reliable.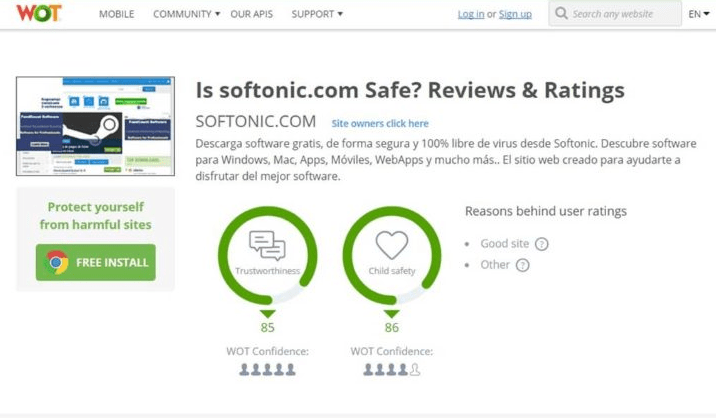 Google Safety
Google is the greatest of all search engines. There is a feature of Google which can warn you in advance about malicious websites. This tool of Google is called 'Google Safe Browsing'. When we checked Softonic website on this free Google tool it showed 'No unsafe content found'. Which is a clear sign that the content on Softonic site is completely free from malware and virus.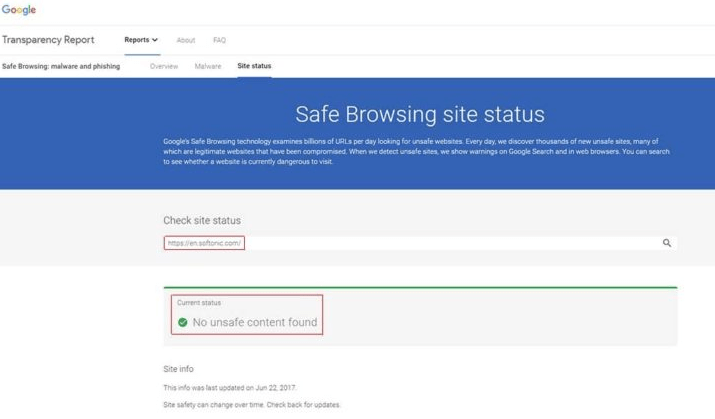 Claims of Softonic
Softonic claims that every single program that is published on its website is tested by multiple antivirus engines to validate its safety. Also, before starting the download of an application another antivirus scan is performed to ensure that you get a completely safe application. So, now you must be thinking then why Softonic is considered unsafe.
Why Softonic is Unsafe?
There is no free download website that doesn't have any malicious content. Many dubious users use original open source programs and bundle their malicious programs with them to attack unsuspecting online users. Most such malware are newly developed and existing antivirus engines are unable to identify their signatures.
Another problem with Softonic is the amount of unverified ads it displays to the visitors. Many users end-up clicking these malicious ads and install apps from third-party websites. Users think that they are downloading from Softonic, but actually the ad banner is of another website and they end-up with a malware on their computer.
Precautions with Softonic Download
You must take some precautions to avoid security risks when you are downloading a freeware from Softonic website.
Firstly, you should carefully read all the reviews of a software before downloading it on your computer. Doing this will allow you to avoid malicious programs. If there are zero reviews available, then better not download that program. Always run a virus and malware scan of a program downloaded from Softonic site before starting its installation on your computer.
Also, when visiting Softonic website you should not click on any of its ads. If out of curiosity or by mistake you end-up clicking an ad, then make sure that you will not download anything from the new website.
Conclusion
Most probably your question 'Is Softonic safe website?' has been answered by now. As we have clearly shown that Softonic is a legit and legal free download site. There are certain risks involved with downloading from this website, but you can easily avoid these risks by taking some simple precautions.
Was this article helpful?