VulkanRT is an application that is rarely known to computer users and when they find it installed on their computer their first reaction is filled with suspicion. Therefore, many people want to know 'what is VulkanRT?' and whether it's a useful application or an intrusive infection. In this article, we will answer all the questions related to VulkanRT that you can possible think of and also tell you how to deal with it if it's installed on your computer.
What is VulkanRT (Vulkan Runtime Libraries)?
VulkanRT is a 3D graphics Application Programming Interface (API) which has been developed by the Khronos Group. The working of this application is similar to that of DirectX and it's considered as a successor of OpenGL. This app gives more control to computer users so that they can better utilize the CPU and GPU capabilities of their computer.
The Vulkan Runtime Libraries helps for efficient multi-threading in the CPU and at the same time allows more effective rendering on the video card of your computer. In short, this program enhances the overall performance of your computer by delivering better and faster results. This app is compatible with all major operating systems, like Windows, Linux and Mac.
Is VulkanRT a virus/malware?
The short answer is absolutely not. VulkanRT is not any type of malware or virus. Like explained in the previous section, this application improves distribution of tasks to the CPU, thus improving its performance and reducing chances of CPU overheating. Also, VulkanRT is an advanced version of OpenGL, it has been designed to work with multi-core processor, while OpenGL could work with just one core.
Since, VulkanRT is compatible with top operating systems you can be fully assured that it will in no way destabilize your computer due to compatibility issues. Not just that, this application improves memory usage on your computer by freeing up the space utilized by compact drivers. Therefore, VulkanRT is an extremely useful application for your computer and absolutely not a virus or a malware.
How VulkanRT entered into my computer?
Usually, VulkanRT is installed on your computer when you are installing other programs, such as video games, graphic card drivers, etc. In case, you have bought a new graphics card, then while installing its GPU drivers you will install VulkanRT on your computer. There are some games which require Vulkan Runtime Libraries to be playable. If you install such a game on your computer, then this application will get installed by default.
Most of the times, you suddenly find that this application is installed on your computer without your permission, which raises suspicion in your mind about its authenticity. However, you shouldn't worry, if your computer is running any of the above mentioned drivers, software or games, then VulkanRT must be working with those programs for improving their performance.
Should I keep VulkanRT or remove it?
Sometimes there are antivirus software which flag VulkanRT as a dangerous infection. If you are experiencing this problem, then update your antivirus program with its latest virus definition files. Even after updating your antivirus if this problem persists, then flag this program as 'safe' in your antivirus or you can just ignore such warnings as false flags.
Since, this application is an API, it can be extremely useful in computers which have to regularly perform graphic intensive work, like HD video editing or computer gaming. In some cases, you can choose to uninstall this application from your computer, like of you already have OpenGL installed on your computer or if you don't run such programs which require VulkanRT.
If yes, then how do I remove VulkanRT?
Suppose, you have decided that you want to remove VulkanRT from your computer, then the removal process is pretty straight forward. Because this application is a completely legit program you can easily uninstall it from your computer by following the steps given below.
1. Click on the 'Search' icon and type 'run'. From the search results select 'Run' application.
2. In the Run app type 'appwiz.cpl' and then click 'OK'. This will open Programs and Features window.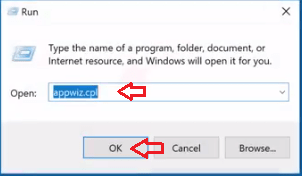 3. In the Programs and Features window list, locate 'Vulkan' program, right click it and select 'Uninstall/Change' option.
4. You will be asked to confirm uninstall. Click on 'Yes'.
5. In the next window click on 'Uninstall'. This will start the uninstall process, wait for some time and this program will be completely uninstalled from your computer.
VulkanRT is a completely genuine program which can be vital for the proper functioning of your computer, especially if your computer is involved in graphic intensive operations. Under rare circumstances your antivirus program can detect this program as a malware or a virus infection, but updating your antivirus program can solve this problem. However, if you still intend to remove Vulkan Runtime Libraries from your computer, then you should replace it with something better.
Was this article helpful?